YOUR ULTIMATE ACTIVE HOLIDAY
We'll make your holiday a success! We'll meet you directly at the beach or pick you up at home. The training then takes place according to your previous skills. The courses can be booked by the hour or by the day in a package to give you full flexibility and the best learning success. We can train you in German, English or Spanish.
Book a private kite instructor who will tailor the lessons to your individual needs. You decide the number of hours – we bring the equipment.
Prices: 
Per hour: 80,- €
1 day à 3 hrs.: 240,- €
2 days à 3 hrs.: 480,- €
3 days à 3 hrs.: 690,- €
4 days à 3 hrs.: 890,- €
5 days à 3 hrs.: 1.050,- €
Private lessons for 2 people. Here, too, the equipment is included, but you determine the number of hours.
Prices per person: 
Per hour: 40,- €
1 day à 3 hrs.: 120,- €
2 days à 3 hrs.: 240,- €
3 days à 3 hrs.: 350,- €
4 days à 3 hrs.: 450,- €
5 days à 3 hrs.: 550,- €
Here, a kite instructor teaches groups of 3 or more. We bring equipment in the right sizes for everyone.
Prices per person: 
Per hour: 23,- €
1 days à 3 hrs.: 70,- €
2 days à 3 hrs.: 140,- €
3 days à 3 hrs.: 200,- €
4 days à 3 hrs.: 260,- €
5 days à 3 hrs.: 320,- €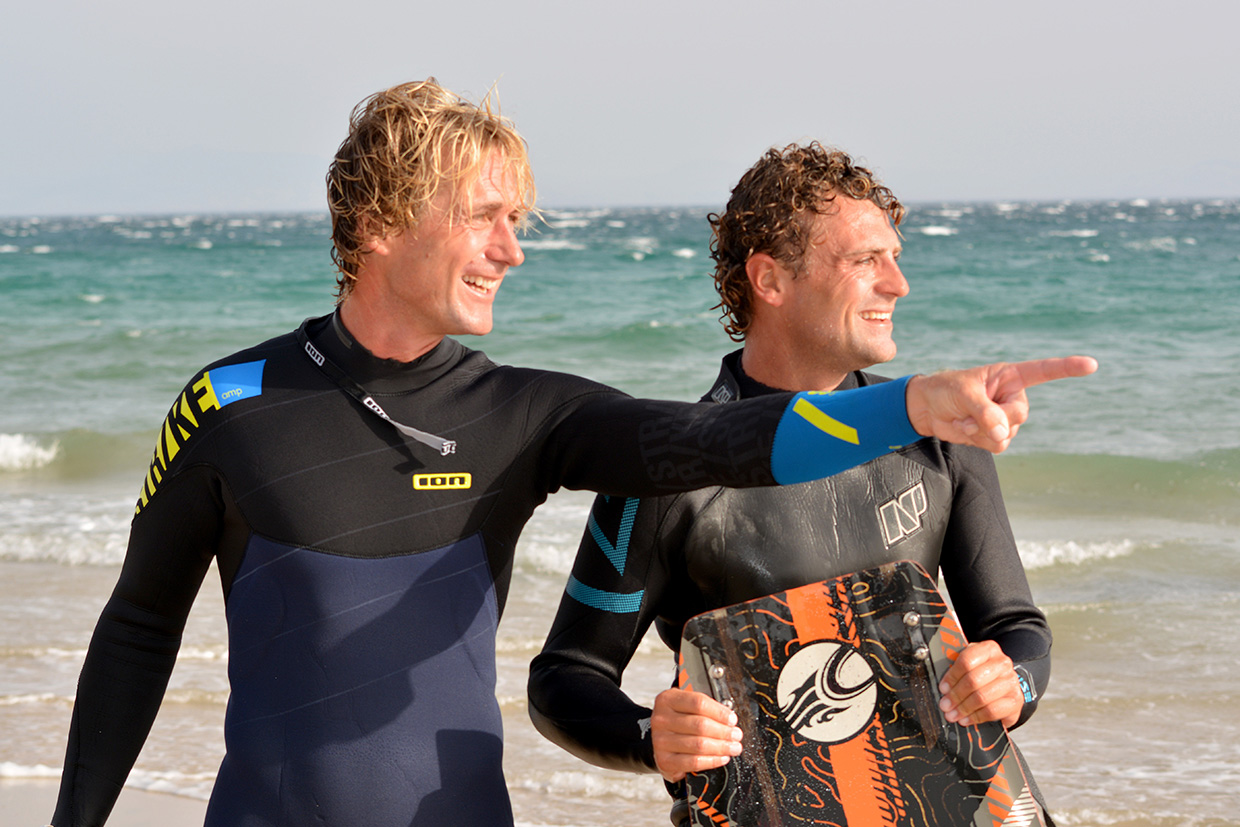 Smallest groups - so that we keep an eye on everyone
Lessons tailored to your skills
Motivated kitesurfing instructors with IKO & FAV license
Holistic care for your perfect holiday
Own rescue service for emergencies
Safety training - so that nothing is left to chance
Shuttle service - whether pick-up from the airport or daily pick-up to the kitespot
YOUR KITE SCHOOL IN TARIFA
You get everything you need from us:
Complete kite equipment
Good mood

Wetsuit

The best instructors

Helmet, life jacket, board leash, walkie-talkie etc.
If the weather conditions are really not good enough for a pleasant session, you will of course not pay anything for this time.
We arrange the Surfers' Life Tarifa for you! You arrive, we take care of the rest. You have no stress, no time pressure and simply experience an unforgettable active holiday.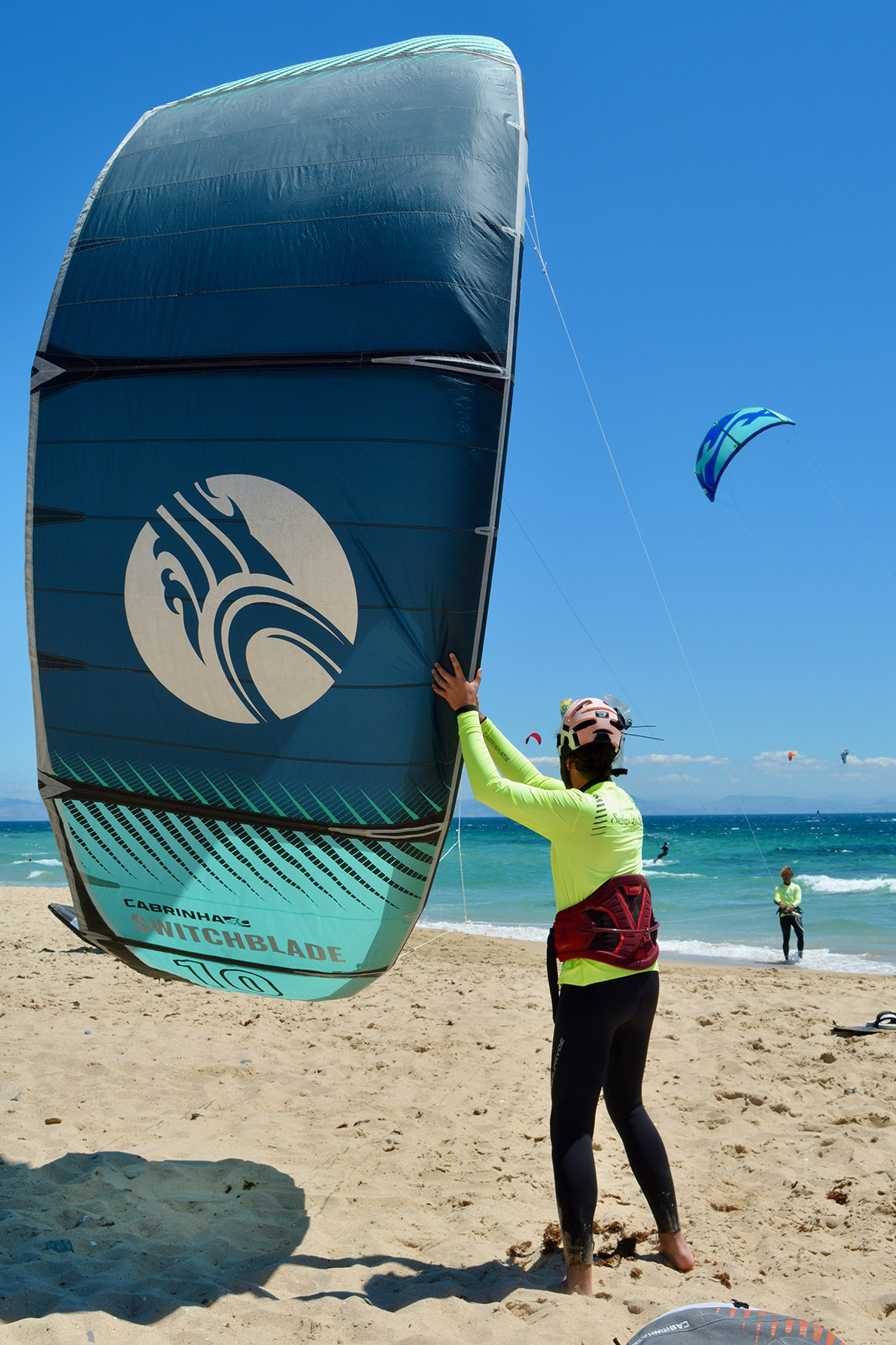 LESSONS FOR ADVANCED LEARNERS
Advanced kitesurfers also get their money's worth with us – no matter whether it's about simply expanding your own kite skills, tips for front or back roll jumps or learning kiteloops, wave kiting or kitesurfing with boots – we have the right people and the right equipment to help you achieve your goals.
And best of all, we have recently added a Hydro Foil Board to our range and are looking forward to many great experiences together with you. While enjoying the Surfers Life Tarifa, our advanced surfers should not miss the end of the day.
Feel welcome to join our evening activities!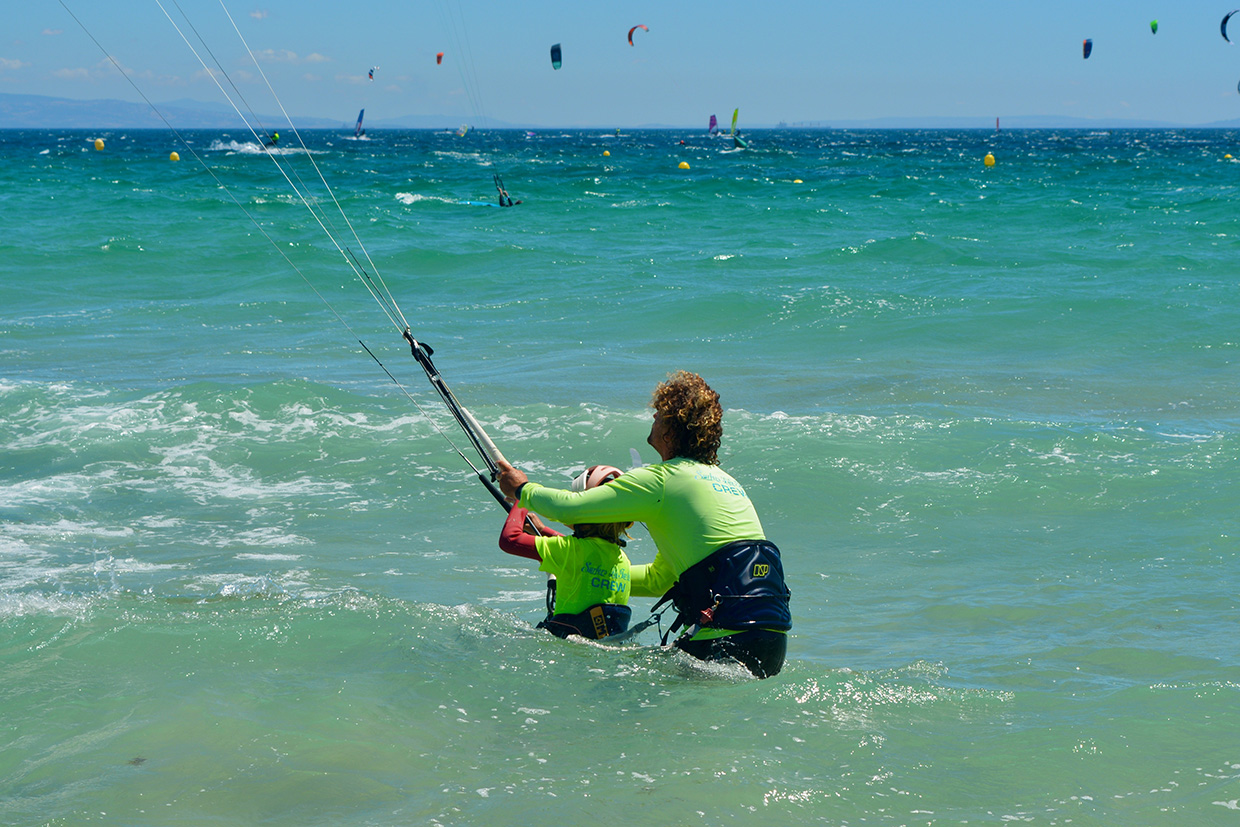 You only know kitesurfing from stories or from a distance? You are still in the early stages of kitesurfing, but have already made your first experiences with kites?
No problem! No matter if you are super sporty or a couch potato, if you have no or first experience with kites – we cater to your wishes and adapt each course individually to your needs. You will be trained exclusively by qualified kite instructors in small groups or 1 to 1.
We use the latest equipment to ensure that you learn quickly and, above all, safely. In order to get to know the complete Surfers Life Tarifa, we invite our students and their family/friends to finish the day with us and our team at the Après Surf.
Melde DICH Bei uns . CONTACT US . Contáctenos